Why You're Bored with Salads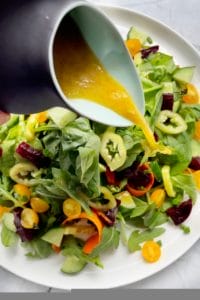 Salads are all about fresh ingredients but it's the dressing that transforms a salad from mediocre to outstanding.  Switching out a few dressing ingredients will take your tastebuds around the world in a matter of moments.
Want to visit Japan? Use soy sauce, rice vinegar, sesame oil, ginger and onion.  Want to change countries?
For USA try a Caesar Salad: anchovies, garlic, lemon zest
For Greece: add feta, garlic, lemon juice and oregano
For French: thin with crème fraîche, chopped chives or other fresh herbs
For Mexico: try lime, coriander, cumin and jalapeño
Below is my all time go-to dressing and it beats a supermarket bottled one hands down.  Trust me! Just turn a bottle over and take a look at the ingredient list. You'll see water and sugar often as the first 2 ingredients then comes, cheap oils, high fructose corn syrup also known as sugar, additives, preservatives, color and a bunch of numbers that none of us understand?  And then with some sneaky marketing they say no preservatives or artificial colors or flavours?   Cheeky hey!
Have a go at this one instead.
Radiant Pantry Vinaigrette
1/4 cup olive oil
2 tbsp white wine vinegar
1 tbsp maple syrup
1 tsp Dijon mustard
1 1/2 tsp finely, grated ginger
1 clove garlic, finely grated
In a glass jar combine all ingredients and shake like mad.
Refrigerate for a week if you're not using it all.  The olive oil it will solidify when chilled so remove from refrigerator 30 minutes before using to allow it to liquefy.
Shake well before serving.
Double the recipe so you've always got some on hand.  I hope you enjoy it as much as I do.
BACK TO THE BLOG