Roasted Veggie Bake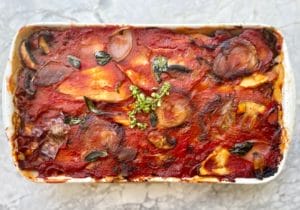 Summer or winter, hot or cold, eat now or later
AND the oven does all the work.
What more can you ask for in a recipe?
Swap your veggies if you like, this is just what I used this time.
It will fill a rectangle baking dish measuring 15 x 30cm.
Any leftover roasted veggies can top a salad or frittata.
1 parsnip
3 zucchini
2 red onion
2 red peppers (small)
2 carrots
1 sweet potato
2 handfuls (12) Swiss mushrooms
2 handfuls spinach
Herbs – thyme, rosemary.  Fresh or dried.
2 tbsp olive oil
Salt & pepper
Pre-heat oven 200o C.
Wash, dry and slice all veggies and place on 2 lined baking trays (except spinach)
Drizzle with olive oil, salt & pepper and herbs, if using
Bake for 25 minutes
While that's in the oven, make the tomato sauce (recipe below)
Start layering the baking dish, start with tomato sauce on the base
Then layer the veggies & sauce, there's not right or wrong
Keep going, save some sauce for the top
Cover with foil and back into the oven at 180oC, cook for 25 minutes
Remove foil and cook for another 10 mins
Serve hot or cold. Great with a slaw and some sauerkraut or kimchi on the side.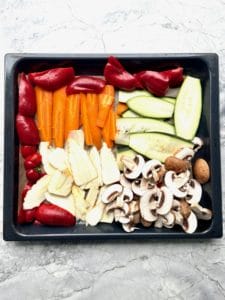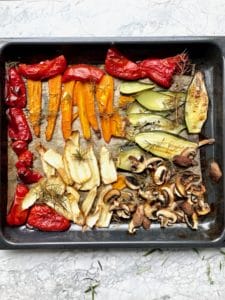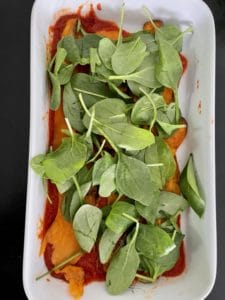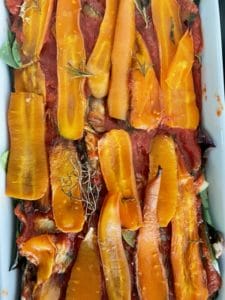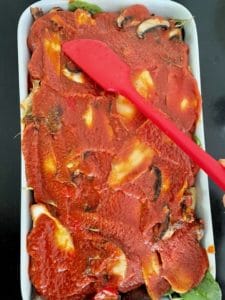 Tomato Sauce 

1 jar tomato passata (700ml)
1 cup water
1 large garlic clove
1 tbsp olive oil
salt & pepper
Gently fry off garlic for 20 seconds in a medium saucepan, add tomato passata, water, salt & pepper.
Bring to a boil, lid on and cook for 20 minutes. Taste and if it's too tart add 1/2 tsp sugar.
Store for up to 4 days in the fridge or freeze
Cheaper and better than a purchased one
BACK TO THE BLOG