Spring Mountain Loaf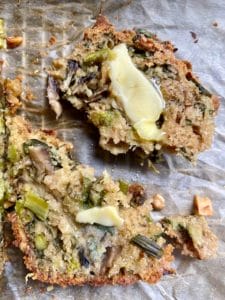 Waiting for this to cook is the hardest part of this recipe.
This is not your average loaf of bread, it's so much more and definitely worth the effort.
Bursting with spring vegetables this savoury loaf is so yummy on it's own, as a base for eggs or avocado or both!
See note for coeliac option.
1 tbs coconut oil
1 leek, white part only, washed & thin sliced
3 handfuls mushrooms (200g), sliced
2 bunches asparagus, finely chopped
3 cloves garlic, sliced
2 large handfuls baby spinach, roughly chopped
250g spelt flour
2 tsp baking powder
1/2 tsp baking soda
1/2 tsp salt & pepper
3 eggs
150g Greek yoghurt
100ml olive oil
1 handful walnuts
1/3 cup parmesan
Preheat the oven to 175o C and line a loaf tin with baking paper.
Heat the coconut oil in a large fry pan and add the leek & mushrooms, gently fry off for a good 8-10 minutes.
Add spinach, asparagus and garlic and cook for a few minutes until the spinach has wilted.
Chop the walnuts and grate the parmesan, set aside.
To a medium size mixing bowl add the flour, baking powder, baking soda, salt & pepper, stir to combine.
In a large mixing bowl add eggs and yogurt, give a quick stir then add the olive oil and mix again until combined.
Add the vegetables and flour to the egg mix and with a spatula gently fold together until just combined.
Fill the lined loaf tin with the mix, pressing into the corners gently without squishing in down.
Sprinkle with the walnuts and parmesan and add a little sprinkle of extra salt.
Place in the oven and cook for an hour.  Check with a skewer before removing as it may need another 5-10 minutes.
Remove from the tin and instantly cut some off and eat it….it's delicious! Just heaven.
Let cool before slicing and store in the fridge for a few days, that is if it lasts that long.
Did you see 100ml of oil and think WOW, that's  a lot? Let's break that down….. This loaf will make at least 10 slices of bread so that not even 10ml of oil per slice which is less than 2 teaspoons per slice.  Also look at all those veggies in there, fantastic!  Spelt flour which is more nutritious than regular white flour and I use wholemeal which adds more fibre and will keep you fuller longer too.  Bursting with flavour this loaf really is one worth making.
Gluten Free/Coeliac Friendly:  Swap the Spelt flour for 2 cups of almond meal and cook in a 24cm spring form cake tin.
BACK TO THE BLOG