The Clean 15 & The Dirty Dozen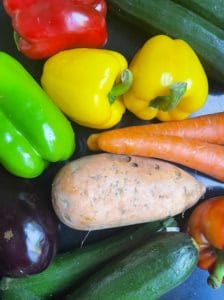 The Clean 15 & The Dirty Dozen. I think that sounds more like a movie title than a list that will help you buy food with the least amount of chemicals & pesticides don't you?
Each year the EWG (Environmental Working Group) puts together a Shoppers Guide to Pesticides in Produce, which comprises of two lists of fruits & vegetables called the Clean 15 and The Dirty Dozen.  These lists help you make an informed decision on what fruits and vegetables to buy organic and what to buy conventional.
We are all encouraged to eat more fruits and vegetables however many foods these days are grown using chemicals and pesticides that can be harmful to our health.  Pesticides have been linked to a number of health concerns like Parkinson's Disease, autism and various cancers.  Knowing what produce to avoid and what produce is deemed the 'cleanest' can not only improve our health but also protect our health.
Switching to organics is a process & this list will help minimise your exposure to toxic pesticides, so when you hit the fruit & veggie isle or market you'll know what you can safely buy & eat.
The Clean 15 – Consistently clean, lowest in pesticides
Avocados
Corn
Pineapples
Onions
Papayas
Frozen Peas
Eggplant
Asparagus
Cauliflower
Cantaloupe
Broccoli
Mushrooms
Cabbage
Melon
Kiwi fruit
The Dirty Dozen – Buy these organic
Strawberries
Spinach
Kale
Nectarines
Apples
Grapes
Peaches
Cherries
Pears
Tomatoes
Celery
Potatoes
Now that you've got your produce home how do you wash it?  I can't stress this enough peeps…..WASH YOUR FOOD!  We don't know who's been handling it.  It's gone from plant to cart, to box to truck to supermarket to shelf to home.  There are a few options here on cleaning produce, take your pick.
DIY Fruit & Veggie Wash
1 cup vinegar
3 cups water
Fill a large mixing bowl with 1 cup vinegar and 3 cups water.  Soak fruits and vegies for 10 minutes, give a gentle rub, rinse with water, dry and store. Ideal for grapes, berries, cherry tomatoes, lettuces, spinach, herbs
Biodegradable cleaner, available at health food stores. Safe for washing food.  Dilute in water, rinse and dry.  Ideal for all fruits and vegiges – a little goes a long way.
Cleans apples, pears, kiwi, apricots, potatoes, sweet potatoes, zucchini, capsicums, cucumber etc.  Rinse under water, wipe all over & dry.  To purchase contact me at sandy@radiantpantry.com.au
Sources
https://www.ewg.org/foodnews/index.php
http://www.beyondpesticides.org/assets/media/documents/health/pid-database.pdf
BACK TO THE BLOG