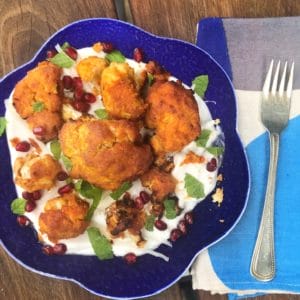 Spicy and cooling at the same time these Spicy Cauliflower Wings are a vegan take on chicken wings.  Simply delicious and an excellent idea as a share starter or side dish.  You could always skip the yogurt and have the cauliflower dotted through a green salad or using all elements serve with the yogurt mix swirled on a plate, topped with lettuce leaves and dotted with cauliflower wings.  For the non vegans this would pair beautifully with slow cooked Greek lamb and a green salad.  OMG delicious!
Ingredients
1 head cauliflower, large stalks removed, bite size pieces
Batter
¾ cup brown rice flour or chickpea flour
sea salt
½ tsp curry powder
2 tsp garam masala spice mix
½ cup almond milk
tbsp water
Sauce
¼ cup red curry paste
3 tbsp melted coconut oil
2 tbsp maple syrup
water to thin, about 3 tbsp
For Serving
1 1/2 cups coconut yogurt
¼ cup slithered almonds, gently roasted
¼ Pomegranate, seeds
5 baby radishes, sliced into matchsticks
Torn mint leaves
Preheat oven to 200oC (400oF) and line a baking tray with parchment paper.
Prepare the batter by mixing the dry ingredients together then adding almond milk and water. Whisk with a fork until well combined. Not too runny as it won't stick & more flour if it's a bit thin.
Dip the cauliflower florets into the batter to cover well and gently wipe at the side of the bowl and place on the baking sheet. Do the same to all pieces and space evenly on the baking tray.
Bake for 15 minutes and while they are cooking make a start on the sauce by whisking together all sauce ingredients.
When the cauliflower is cooked remove from the oven and dip the florets into the sauce until well covered. When all done place back on the baking tray and in the oven for 20-25 minutes until browned on the edges.
To serve, combine radishes and yogurt together then to assemble the dish spreading the coconut yogurt mix on a large plate. Place cauliflower on top and scatter with almonds, pomegranate seeds and mint.
BACK TO THE BLOG