Roasted Baby Capsicums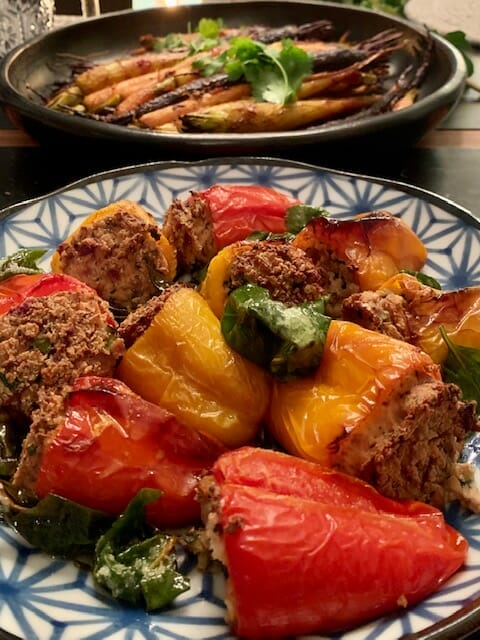 Sweet and savory all in one.  These delightful little roasted capsicums make a lovely accompaniment to a share meal or can be served with a green salad.  Stuffed with tofu and herbs they are totally delicious and satisfying for lunch or dinner.
10-12 mini capsicums (red, orange, yellow)
3 tbsp olive oil
1 red onion, finely diced
½ zucchini, finely chopped
2 cloves garlic, minced
1 ½ cups cubed firm tofu
¼ cup almond milk (or other milk)
1 teaspoon dried basil
1 teaspoon dried thyme
½ teaspoon paprika
1 teaspoon sea salt
Freshly cracked black pepper
Pinch of cayenne pepper
Fresh basil leaves for serving
Preheat the oven to 175oC and line a baking tray with baking paper.
Cut the ends off the capsicums and scoop out the insides.
In a frying pan over medium-low heat, sauté the onion in one tablespoon of olive oil until softened and transparent, about 4 minutes.
Add the zucchini and garlic and cook together until all is softened.
In a food processor or Thermomix, pulse the tofu until it crumbles.
Add the onion and zucchini mixture to be processed along with the milk, basil, oregano, thyme, salt, paprika, black pepper and cayenne pepper.
Pulse on and off to combine all the ingredients – add a touch more milk if you think it needs it.
Fill each capsicum with the tofu mixture and place them on the baking tray.
Drizzle with olive oil and then rub all over so they are well coated.
Bake for 30-40 minutes, keeping an eye on them so they brown up nicely without burning.
BACK TO THE BLOG