My Most Popular Grain Free Crackers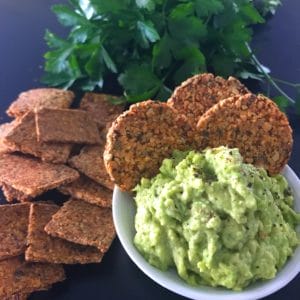 Everyone asks me for this recipe! These grain free crackers are one of my most requested recipes.  Not only do they pair nicely with cheese, they are perfect with a guacamole, hummus or something a bit fancier like a smoked trout dip.  I always get asked "Did you make these Sandy?"….probably knowing the answer and I'm happy to share the recipe here.
I rarely buy biscuits for a dip because firstly they don't even come close to these in flavour.  Secondly, I always wonder how long have those crackers been stored in that plastic wrap?  They could have been sitting on the shop shelf for months by the time you buy them.  So much for freshness. Have you ever thought about that?  Along with gluten you'll see a lot of saturated fat from cheap vegetable oils, plenty of salt and even sugar – and these are the savoury biscuits.  Gluten free ones? They often cost a bomb.
So, now that we've got that sorted these will make up quickly from ingredients you have in the pantry and will only take 13 minutes tops to bake, so there's no excuses to give them a go.
1 cup almonds
¼ cup pumpkin seeds
¼ cup sunflower seeds
½ tsp salt
½ tsp garlic salt
1 tsp ground cumin
1 tsp chilli flakes
1 tsp paprika
1 tbsp chia seeds
50mls water
1 tbsp olive oil
Make a chia gel by mixing the water and chia seeds in a small bowl, when combined add the olive oil and give a good stir. Set aside.
Add everything except the chia gel mix to your Thermomix speed 4, 10 seconds or pulse in a food processor. You may need to scrape down the bowl & repeat until the desired consistency is reached – you'll want it fairly fine, like sand or slightly grittier.
Place the dough between 2 sheets of baking paper and roll out with a rolling pin to about 2mm thick.
Cut into squares or shape with a cookie cutter.
Repeat until all dough is used. Sprinkle with extra sea salt and more chilli flakes, if desired. Just press it in to the tops so it sticks.
Using a spatula or the flat side of a knife, place them onto a large baking tray – it's a tight squeeze but they'll all fit, even up the sides.
Bake at 180o (350oF) for 10-13 minutes, no longer – watch to make sure they don't burn.
These will last in an airtight container for 2 weeks, but they won't because they'll get eaten!
BACK TO THE BLOG