Kale Salad with Walnuts & Pecorini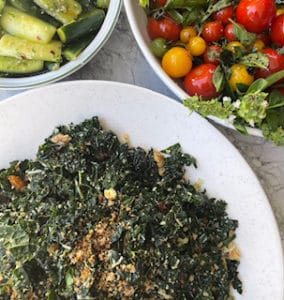 Kale is amazing!  Well that's what I think anyway.  I find this salad get those that declare they don't like kale over the line, so much so that they want to make it themselves.  Go on, try it!
½ cup walnuts
¼ cup golden raisins
1 tbsp apple cider vinegar
¼ cup slightly course homemade breadcrumbs
1 bunch kale, washed
1 clove garlic, minced
½ cup pecorino cheese, grated
1 lemon, juiced
4 tbsp olive oil
½ tsp salt
fresh pepper, salt or red pepper flakes to taste
Heat oven to 150oC and place walnuts on a baking tray, roast for 10 minutes. Let cool then coarsely chop.
Toast breadcrumbs, garlic and 2 tbsp of olive oil in a small pan with a pinch of salt until golden. Set aside.
Strip kale of stems, roll up and thinly slice.
Put kale in a large bowl with a pinch of salt and massage, (think remedial massage for a good 5 mintues) until it softens, watch it turn a wonderful rich deep green color.
Add in the pecorino (don't skip this unless you are vegan), walnuts and raisins to the kale.
In a small bowl add lemon juice, vinegar & olive oil and mix together to make the dressing and pour this onto the kale and combine well. Season with the pepper.
If you can, let it sit aside for 10 minutes for the flavours to develop.
Top with breadcrumbs and more olive oil, if you like.
BACK TO THE BLOG