Indian Vegetarian Shepherd's Pie
Indian Shepherd's Pie has the familiar look of an old favorite with all the modern flavours of India that will ignite your tastebuds and give you that comforting warming feeling.  It's a hearty vegetarian meal.
Cooked with ghee which originates from India, it has a high smoking point and many health benefits along with being lactose free.  Butyrate which is found is ghee is soothing and nourishing on the digestive tract and helps reduce inflammation.  Best of all this is a nourishing and filling vegetarian meal.  Make double and freeze one.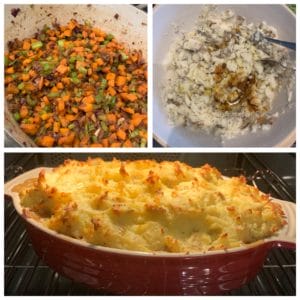 For the Topping
1.2 kg sebago potatoes, washed and cubed
4 tbsp ghee*
1/2 cup plain yogurt
1/2 cup milk or almond milk
1 tsp salt or to taste
1 few grinds of pepper
1-2 tsp curry powder
For the Filling
1 cup dry lentils, cooked or 2 cans of lentils
2 tbsp ghee
1 large onion, diced
4 cloves garlic, finely chopped
2 carrots, diced
3 celery sticks, diced
2 tsp garam masala
1 tsp ground cumin
1 tsp ground coriander
1 tsp salt
a few grinds of black pepper
2 tsp dried fenugreek leaves, or 1 tsp of powdered fenugreek
2 1/4 cups veggie stock
1 cup frozen peas
3 tbsp flour
1 tsp cumin seeds & 1 tsp fennel seeds
Pre-heat the oven to 180oC
Place cumin and fennel seeds in a small fry pan on medium heat and dry fry the seeds until fragrant, about 1 minute, giving the pan a shake so the seeds don't burn. Turn off and set aside.
Steam the potatoes in a large steamer for about 20 minutes and while they are cooking get onto the filling.
The Filling
In a large pot heat the ghee over medium heat and add the onion, sauté for 4 minutes until transparent, lower the heat, add garlic & cook for a minute.
Add carrots & celery and cook for 5-7 minutes.
Add salt, cumin, coriander, fenugreek leaves and garam masala.
Gently fry for a minute until you smell the spices, giving it a good stir.
Add the flour, stir until combined with the veggies.
Add the veggie stock, keep stirring and let the mix come to a gentle simmer for 5 minutes so the veggies cook through.
Add the cumin and fennel seeds, peas and lentils, stirring to combine and cook a little longer about 3 minutes.
Taste the filling and add more salt, pepper or garam masala if you feel it needs it.
The filling should have a thick stew-like consistency.  Add a little water if it's too dry or simmer off the liquids if it's too watery.
The Topping
In a large bowl mash the steamed potatoes with the ghee, yogurt and milk, keep mashing and get some air into the mix so they become slightly whipped and smooth.
Season with curry powder, salt and pepper.  Taste test it, add more seasonings if you wish.
Putting it all together – make one large or 2 smaller pies
Place filling into a baking dish and add dollops of potatoes on top.  I like to make little peaks out of mine as they crunch up when cooked in the oven.
Pop a few teaspoons of ghee on top for additional flavour and bake in the pre-heated oven for 25 minutes until browned on top.
*If you don't have ghee, replace with olive oil.
Ideal for making the day before or freezing.
I'd like to give credit to  Feasting at Home for creating this amazing dish.
BACK TO THE BLOG