Community Garden Best Ever Coleslaw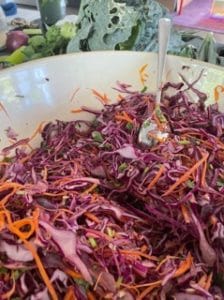 Unfortunately this pic doesn't do this salad justice.  I first made it back in 2018 when I joined my local community garden and everyone enjoyed it. I love the dressing and you can always double it as it's truly delicious.  It's a real crowd pleaser and you only need a few fresh ingredients.
½ medium head of purple cabbage
2 carrots
½ cup coriander
½ small red chilli (optional)
¼ cup roasted sunflower seeds
The Dressing
1 tbsp extra virgin olive oil
1 tbsp apple cider vinegar
1 tbsp maple syrup
½ clove garlic, minced
pinch of cayenne pepper
pinch of salt
freshly cracked black pepper
Using a mandolin finely shred the cabbage.
Grate or make the carrots into matchsticks.
Finely chop coriander.
Add cabbage, carrots, coriander, chilli (if using) and sunflower seeds to a large mixing bowl.
In a small jar add all the dressing ingredients, pop the lid on and give a really good shake until well combined.
Add the dressing to the bowl of vegetables and combine together.
Do a taste test and season with salt and pepper.
BACK TO THE BLOG