Chinese Smashed Cucumber Salad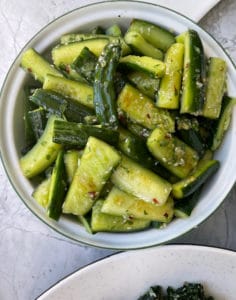 It's all about salting and chilling to get that crunch and of course using home grown cucumbers if you have them and we've had plenty at the Community Garden this summer.
I like to use Lebanese cucumbers however regular cucumbers work just as well.
1 kg Lebanese cucumbers,  (about 6)

1

 tsp

 salt, plus more for cucumbers

2

 tsp

 sugar, plus more for cucumbers

1 ½

 tbsp

 rice vinegar

2

 tsp

 sesame oil

2

 tsp

 soy sauce

1

 tbsp

 extra-virgin olive oil

2

 

large garlic cloves, minced

 

Red pepper flakes, to taste

 Handful of 

coriander leaves, for garnish

2

 tsp

 toasted white sesame seeds, for garnish
Wash the cucumbers and pat dry. Cut crosswise into pieces about 10cm long then in half lengthwise.
On a chopping board, place a few pieces of cucumber cut side down. Lay the blade of a large knife flat on top the cucumber and smash down lightly with your other hand. The skin will begin to crack, the flesh will break down and the seeds will separate. Repeat until the whole piece is smashed. Break or slice diagonally into bite-size pieces, leaving the seeds behind.
Place the cucumber pieces in a sieve and toss with a generous pinch of salt and one of sugar. Place a plastic bag filled with ice (or icepack) on top of the cucumbers to serve as a weight & place the strainer over a bowl. Sit and let drain for 30 minutes or pop in the fridge until ready to serve, up to  about 4 hours.

For the dressing:

In a small bowl, combine salt, sugar and rice vinegar. Stir until salt and sugar are dissolved. Stir in sesame oil and soy sauce.
When ready to serve, shake cucumbers well to drain off any remaining liquid and transfer to a serving bowl. Drizzle with or olive oil and toss. Add half the dressing, half the garlic and the red pepper flakes to taste, and toss. Keep adding dressing until cucumbers are well coated but not drowning. Taste test and add more pepper flakes and garlic if needed. Serve immediately, garnished with coriander and sesame seeds.
BACK TO THE BLOG