Almond & Seeded Porridge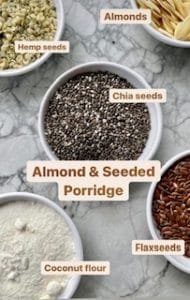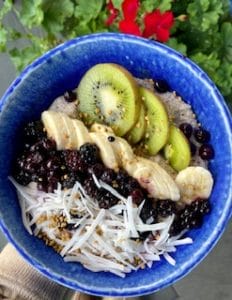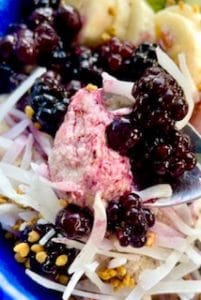 This is one delicious & nutritious breakfast.  You have the option to use it all if feeding 4 or store it raw in the fridge or freezer for a quick breakfast.
1/3 cup coconut flour
2/3 cup almonds
1/3 cup flaxseeds
1/3 cup hemp seeds
2 tbsp chia seeds
2 tbsp coconut oil
600 mls milk of your choice  (or ½ milk ½ water)
cinnamon, berries, fruit, coconut, yogurt for topping
Place almonds, flaxseeds, hemp seeds and chia seeds into a food processor and blend until a fine meal is made (think a little grainier than flour)
Place the 'meal' and coconut flour in a bowl and stir to combine *
Place all the ingredients except for the milk into a medium size saucepan.  Mix together until combined.
Pour ¼ of the milk/liquid in and stir into a smooth paste.
Place on a low heat and gradually add the rest of the liquid in small amounts, stirring continuously.
Bring to the boil for a minute or so until you have the creamy consistency of porridge then remove from heat.
Serve with your favorite fruits, add a sprinkle of cinnamon, coconut flakes or yogurt.
*If not using it all store in a glass jar in the fridge for a up to 5 days or into the freezer for 3 months.  You can just spoon out a serve and cook with the coconut oil and milk when you need it.  Usually 5 heaped tablespoons will be one serve.
BACK TO THE BLOG