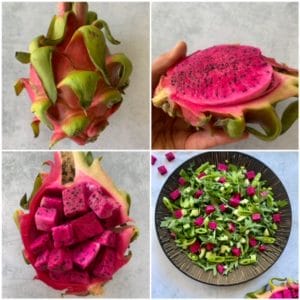 Let me introduce you to Dragon fruit
I was inspired to buy this dragon fruit purely for the inside color – stunning right?  I purposely didn't edit these pics so you'd get an idea of how perfect they are for the festive season or anytime of year really.  Put dragon fruit with leafy greens, and hey presto, you've got Christmas on a plate, along with magnesium, vitamin C, fibre and prebiotics.
When I'm making a salad I like to include
Leafy greens
Veggies with crunch
Veggies with color
Fruit
a nut or seed
and anything that's in the fridge really – and that's what I did here.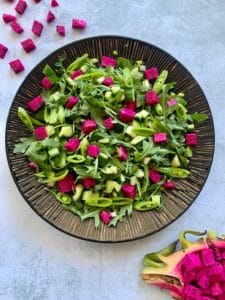 Of course there's the dressing which takes a salad to the next level however often just a drizzle of olive oil and a squeeze of lemon is all that's required.
Be brave, the flavour is mild but does that color WOW you or what?
BACK TO THE BLOG