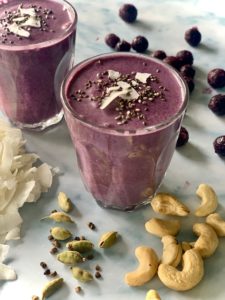 Serves 1
Full of C's. Chia, cashews, coconut and the beautifully warming spice cardamon.
Chia seeds are a plant source of omega 3 fatty acids (which the body can't produce so they need to come from the diet) along with plant protein and they have both soluble and insoluble fibre. The cardamon adds a warming touch and the lime vitamin C and that zestiness.
1 cup frozen blueberries
½ coconut flakes/desiccated coconut
¼ cup cashews
1 tbsp chia seeds
1 medjool date
¼ lime
¼ tsp cardamon
a pinch of salt
1 cup of water
Blend all ingredients in a high speed blender for a minute or more until everything is combined.
Cashews are easier to blend if soaked for 2 hours beforehand.