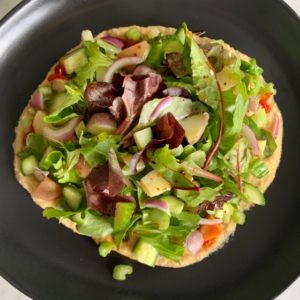 Serves 2
4 handfuls mixed salad leaves
2 potatoes, cut into cubes
1 small sweet potato, cut into cubes
1 Lebanese cucumber, chopped
1 celery stick, finely sliced
¼ red onion, thinly sliced
4 tbsp Sweet Mustard Sauce (recipe below)
8 tbsp Hummus (recipe below)
2 tsp Sriracha or chilli sauce
Sweet Mustard Sauce
½ cup balsamic vinegar
1 tbsp Dijon mustard
1 tbsp wholegrain mustard
2 tbsp maple syrup
Hummus
1 can chickpeas, drained
1 garlic clove
1 tbsp tahini
½ lemon, juiced
½ cup water
salt & pepper to taste
Steam the potatoes & sweet potatoes for 10 minutes until tender.
Put in the fridge to cool.
Make the dressing by putting everything into a jar and give a good shake.
For the hummus place everything in the blender and whiz until smooth.
To plate up put 4 tbsp (or thereabouts) of hummus in the middle of a plate and smear in a circle, then place around Sriracha dotted on the hummus
Pile the leaves on top, scatter the potato, sweet potato, celery, cucumber and red onion on top, drizzle with dressing and eat immediately.
There will be left over dressing which will last for months in the fridge but use it, it beats those store bought dressings.  Eat up the rest of the hummus with some celery sticks another time.