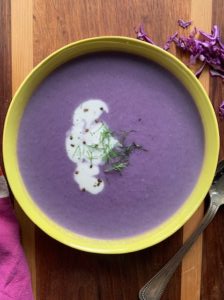 2 tbsp coconut oil
1 onion
2 cloves garlic
½ red cabbage, about 300g – 250g
2 stick celery
1 red skinned potato/any potato
1 tbsp fennel seeds
1 tsp black cardamon seeds
3-4 cups water
1 small can coconut cream – reserve a bit for the top
salt
Heat oil in a large pot on medium heat.
Add onion and celery and gently fry off.
Add garlic, fennel and cardamom and cook for a few more minutes stirring gently so they don't brown.
Add water and most of the coconut cream but reserve some of the solid coconut cream to top with
Add potato and cabbage, give a stir and cover with a lid.
Bring to a gentle boil for 20 minutes.
Remove from heat, and puree in the pot using an immersion blender, or puree in a blender.
Serve hot, in bowls, with a dollop of coconut cream on each.