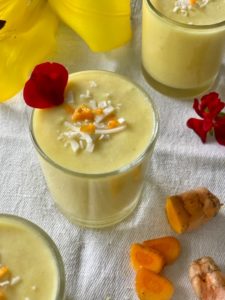 Serves 1
You probably think I made a mistake with the pepper?  Did you know for turmeric to be absorbed it needs fat and fresh cracked pepper?  The fat is coming from the avo & coconut cream. You won't even taste the pepper in there 😉
Turmeric is a wonderful natural anti-inflammatory & there's all that Vitamin C from the pineapple and lime.
Read the tip below for the prep*
Pop your sunnies on and sip this outside.
1 ½ cups frozen pineapple
1 ½ cups fresh pineapple, (about 2 rings)
2.5 cm piece of fresh turmeric or ½ tsp ground turmeric
1/4 avocado
1/3 cup coconut cream
Fresh grind of pepper
half a lime, peeled or just the juice
Water, if needed
Place the fresh pineapple into the blender first then everything else in.  That will help to blend.
Blend on high until smooth, add water or if it's too thick and ice if you wish.
*Tip:  buy a whole pineapple and the night before you want the smoothie, peel and cut up half and put in the freezer – no need to core it.  Chop up the other half and have in the fridge for the next few days to go into your smoothie or as a snack.