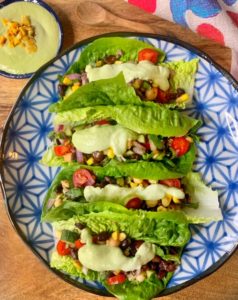 Serves 3
So this was meant to have a mashed avo topping, however I didn't have any avocados. How the hell did that happen???  So I whipped up a cashew cream dressing and drizzled it on top.  Totally optional. The dressing is fab with corn chips and a much better option over cheese and will store in the fridge for 2 days.  The ingredient list looks long but this salad is mainly chopping fresh veg and herbs that hopefully you have in the pantry.
I've used aduki beans as they are a good source of fibre and known in Chinese medicine to strengthen the kidneys.
The Salad Cups
1 can aduki beans
1 corn cob, kernels removed
1 red onion, finely chopped
1 zucchini, finely chopped
250g cherry tomatoes, halved
1 avocado, mashed
1 Cos lettuce, leaves picked off
1 large handful coriander, leaves & stems chopped
2 limes: zest of 1 & juice of 2
3 tbsp olive oil
1 tbsp maple syrup
1 tsp garlic powder
1 tsp cumin, ground
1 tsp chili powder
1 tsp smoked paprika
½ tsp salt
Remove the husk from the corn and discard. Remove the kernels by standing the corn on it's base and cutting downwards, turn the cob around & repeat until all are removed.
Heat a small fry pan on medium to high and add 1 tbsp olive oil. Fry the corn kernels until they start to intensify in color and brown up. Should be about 5 minutes. Set aside to cool.
Rinse and drain the beans and place in a medium sized bowl with onion, zucchini, tomato and coriander.
In a small bowl whisk the lime zest & juice, olive oil, maple syrup and the 5 seasonings on the list and add to the beans. Pop in the fridge for flavours to develop.
Make the cashew cream dressing if making (recipe below), or mash the avocado, or both!
Serve the bean mix in lettuce cups with a dollop of mashed avocado or cashew cream or even better, both!
If lettuce cups are too messy for you just chop the cos lettuce and mix in, it'll make a yummy crunchy salad – give another squeeze of lime.
Coriander Lime Cashew Cream
3/4 cup raw cashews
I handful fresh cilantro leaves
1 garlic clove
1/2 cup water
3 tablespoons lime juice
1/2 teaspoon fine sea salt
1/2 teaspoon garlic powder
Add everything to the blender and blend on high for a minute until smooth and creamy.