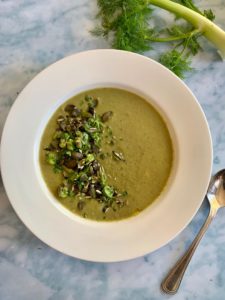 Serves 2
2 bunches asparagus
2 tbsp coconut oil
1 onion
2 cloves garlic
1/2  large fennel bulb or 1 small fennel
1 handful spinach
2 cups water
1 tbsp apple cider vinegar or lemon juice
salt & black pepper
Parsley Seeded Topping
Asparagus tips
½ cup pumpkin seeds
1 handful flat leaf parsley
½  green chilli, finely chopped – optional but good
Heat the oven to 150 degrees and pop the pumpkin seeds on a baking tray and in the oven for 10mins.
Trim the tough ends off the asparagus (compost them 🙂 ) then roughly chop the stems – reserve the tips in a small bowl (they'll be for the topping)
Finely chop the onion, garlic and fennel.
Heat a medium size pot and melt coconut oil and cook onion, garlic and fennel until soft, about 5 minutes.
Add the asparagus, stir around and let fry on low/medium heat for a minute, then add spinach. Watch the greens come to life then add the water, apple cider vinegar and season with salt & pepper.
Bring to a boil and let simmer for 10-15 minutes.
Meanwhile prepare the topping (below)
Carefully pour the soup into a blender or use a hand blender to mix until smooth.
Taste the soup, add more water or salt and pepper if needed.
Serve the soup, add the topping and pat yourself on the back for making a lovely fresh spring soup.
Preparing the topping: Finely chop the asparagus tips and the parsley and place in a bowl together with the toasted pumpkin seeds (chop them too if you like). Add chili if you like it a little spicy.
What to do with left over fennel?  Fry it up and pop it into an omelette or slice finely and pop it in a salad.