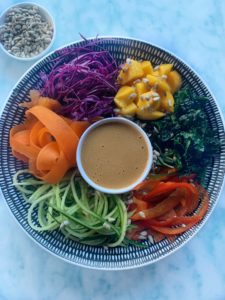 Serves 2
This really is eating the rainbow.  Raw but totally delicious with crunch.  Look closely that's kale (no eye rolling please) so give it a really good massage before you plate up.  Remember squeeze, release, squeeze, release.
1 large carrot
1 Lebanese cucumber*
½ red cabbage
½ red pepper
4 kale leaves
½ ripe mango
4 tbsp sunflower seeds
The Dressing
3 tbsp peanut butter
3 tbsp lime juice
2 garlic cloves
1/2 – 1 tsp red pepper flakes
5 tbsp coconut aminos or  2 tbsp tamari,  start with 2 and add 1 more for saltier flavour
2 tsp sesame oil
1 tbsp honey or maple syrup
Add all the sauce ingredients to a small blender and blend until smooth. Taste test and add more lime or red pepper if needed, even a little water if you feel it needs it. Remove and place in a little serving bowl and get ready to drizzle on veggies.
Prep the vegies by
Kale – remove the stems and slice finely then massage (think deep tissue)
carrots – make ribbons with a vegetable peeler
cucumber – peel with a julienne peeler or make ribbons with a veg peeler
red pepper – use the mandolin or cut finely with a knife
red cabbage – use the mandolin or cut finely with a knife and then give it a few squeezes with both hands when chopped, it softens up
mango – cut into cubes
Arrange the vegies around the bowl and place the sunflower seeds in the middle
Drizzle the dressing on top on tuck in
You can give it all a big stir and make it into a big hot mess and tuck in or keep it orderly eating it civilised, chewing it well with your best manners 😉
*Lebanese cucumbers are small cucumbers about the third of a regular cucumber.