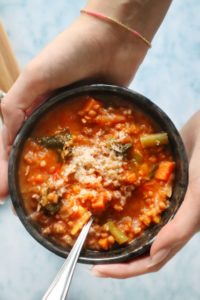 Serves 2
1 tbsp olive oil
1 red onion, finely chopped
2 stalks celery, diced
1 carrot, diced
2 cloves garlic, minced
100g red lentils
500 ml water
8 medium sized tomatoes (or 2 cans tomatoes)
2 tsp ground cumin
1 tsp ground coriander
2 tbsp tamari sauce (or soy if you don't have tamari)
6  macadamia nuts, to garnish
Heat olive oil in saucepan over medium heat, then add the onion, celery and carrot and cook until translucent and softened (about 5 minutes)
Add the garlic and gently fry off for about 30 seconds
Add the lentils, tomato, spices, water and tamari.
Bring to a boil and simmer for 20 minutes until vegies are tender.
Serve and grate the macadamia nuts using a fine grater.
This shouldn't need any seasoning however a little pepper could be nice.