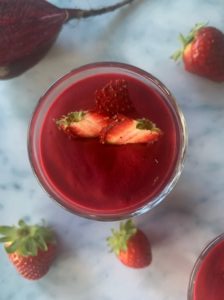 Serves 1
1 cup coconut milk*
1 cup strawberries
1 medjool date
1/2 beetroot
1 tbsp cacao powder
1/2 tsp vanilla extract
Roughly chop the beetroot and add all ingredients to a high speed blender.
Blend on high for about 1 minute until smooth, add more milk if required.
*substitute 1/4 cup raw cashews and 1 cup water if you don't like coconut milk.
Add water if you find it too thick.