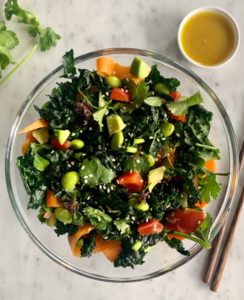 Serves 2
Kale can be hard work so it's important to give it a really good massage.  And I mean really good.  Pop it in a large mixing bowl, add a touch of salt and "squeeze, release, squeeze, release" (sounds like a pelvic floor exercise!)  Do one of those too…but back to the kale, massage this for 4-5 minutes and watch it transform in color, wow!  Massage or you'll end up with a tough salad.
1 bunch kale
1 carrot, ribboned with a peeler
1 red bell pepper, chopped
4 spring onions, diagonally sliced
1 cup edamame (soy beans)
1 avocado, chopped
1 handful of coriander, chopped
1 handful of Thai basil – or regular basil, chopped
4 tbsp sesame seeds
Salt
Asian Dressing
1/4 cup olive oil
2 tbsp rice vinegar
2 tbsp finely grated ginger
1 tbsp tamari sauce (or soy sauce)
juice of 1/2-1 lime
3 cloves garlic, minced
Boil the kettle and soak the edamame for a few minutes, drain and pop the beans out of their pod and set aside.
Strip the kale of the stalks and discard.
Bunch the kale leaves together and finely slice them and place in a bowl with a touch of salt and massage (remember squeeze, release, squeeze, release).
Toss the remaining vegetables into the kale and gently stir.
In a small bowl whisk together all the dressing ingredients until combined.
Pour the dressing onto the salad and serve with the sesame seeds on top.
You'll find edamame in the freezer section of the supermarket, health food stores or asian grocers.