I like recipes that can be created without lots of fancy appliances.  However there are a few go to's that I believe are essential to making food prep easy, makes it look good and are practical.
Salad Spinner
Wash your food!!  This is the updated version of my salad spinner which I've had for a good 10 years.  They cost around $50 and you can get them from Minimax, the brand is Zyliss.  Wash greens, herbs, berries and have them come out 99% dry.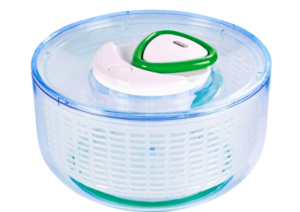 Peeler & Julienne Peeler
Besides peeling, a regular vegetable peeler turns veggies into pretty ribbons and the Julienne peeler creates quick julienned veggies.  Again from Minimax, and you get what you pay for. Each under $15.
Ideal for raw carrots, zucchini's and cucumbers.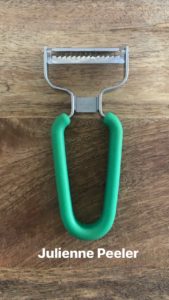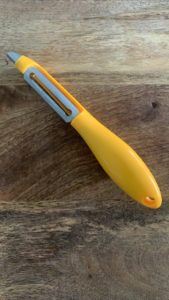 Mini Grater & Microplane Grater
I'm the hand model in this one, but that's so you get an idea of the size.  I love this little grater as I use it for ginger, garlic and fresh turmeric. The Mircoplane grater does much the same job but finer and I'll use this if I grate nuts as a garnish on soups.
Mandoline Grater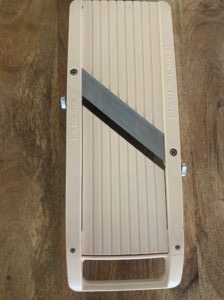 Naughty me, I can't find the 'thingy' that protects you from slicing of your fingers or part of a hand. Ooops!  So use with caution. Super sharp but just amazing for fine shredding of cabbage for a coleslaw or a veggie bowl.  I also do apples on this too. There are various attachments but I tend to stick to this one. Some mandolines come with containers and 'catchers' but I use mine directly onto a chopping board.
The Swag or a Cotton Tea Towel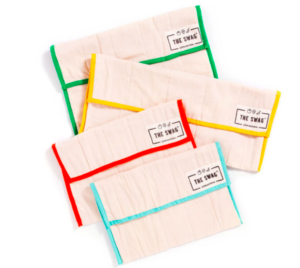 Tried and tested is The Swag, it's Australian made cotton fridge storage bags for your fruit and veggies. You can put mushrooms, greens, herbs, pears, onions, ginger or anything in there and it will keep it really fresh.  I highly recommend them, but don't buy a big one, I learnt the hard way as you forget what's down the bottom.  Get the small or long which is great for storing celery, carrots, spring onions….everything really.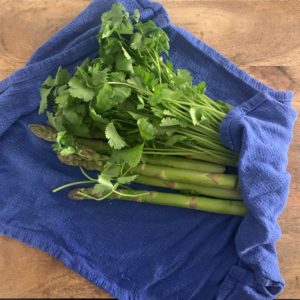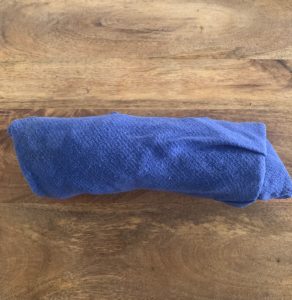 Food storage is made easy with a tea towel.  Simple!  Wash your food then wrap it up, dampen (fully, not dripping, just dampen okay?) the tea towel with cold water and place in the crisper.  Herbs, greens, spring onions, asparagus etc. /
That pic above is 5 day old coriander and asparagus.  No joke!!
Enjo Fruit & Veg Cloth and Enjo for the Cleanup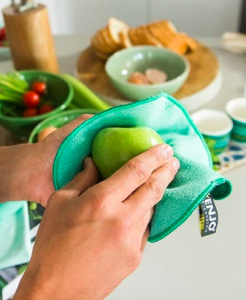 Full disclosure here….I sell it. So if you want it shoot me a message at Radiant Pantry
Washing your food is the #1 rule.
This fruit & veg cloth is magic, just $29.  Run your food under water then wipe over with the cloth and eat or store.  Removes wax from apples, germs & pesticides from fruit & veg. Ideal for kiwi fruit, apples, pears, tomatoes, zucchini, cucumber, carrots, chilies, capsicums, lemons, limes (if using the zest) and plenty more.  Bit tricky for blueberries though 😉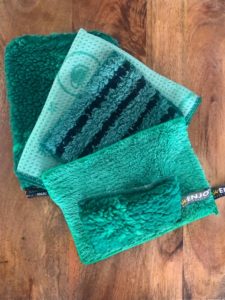 For the kitchen clean up this is all I use for 3 years!  Yep, that's it in the pic above.  For benchtops, stovetops, washing my dishes, oven, wiping the cupboards. No chemicals, no toxic sprays and no chucking away sponges and wetex's into landfill.  Great for my health, my wallet and the environment.  I save a fortune.  Love that.  If you want to know more about Enjo, just ask me.
I'm sure there are a few more things but these are my regulars.  If you have tips or tricks I'd love to know them.  I'm always learning from my clients so please share.